Robust Edge AIoT Platform 12th Gen Intel® Core™ Processor
AS-iEPF-9010S/iEP-9010E series robust Edge AIoT platform, powered by 12th Gen Intel® Core™ Processors (Alder Lake S) with R680E/H610 chipsets to bring breakthrough performance at the Edge.
Featuring excellent computing power with energized Edge AI acceleration, AS-iEPF-9010S/iEP-9010E series provide high memory capacity, rich I/Os and expandability, wide RF connectivity- 4G LTE, 5G, Wi-Fi 6E, BT 5.2 with real-time TSN/TCC, plus ruggedness for industrial environments.
The Series is an effective all-in-one consolidation for high-demanding workloads, tailor-made for mission-critical industrial applications such as factory automation, machine automation, robotic control, AI AOI, autonomous vehicles, smart cities, and much more.
Breakthrough Performance with Energized Edge AI Acceleration
The performance hybrid architecture of 12th Gen Intel® Core™ processor (Alder Lake S) supports up to 16 cores and 24 threads, enabling IoT use cases that are up to 1.36 times faster in single-thread performance and 1.35 times faster in multi-thread performance compared to previous 10th Gen Intel® Core™ processor.
Moreover, the iEPF-9010S/iEP-9010E Series are designed with enhanced AI capabilities in different vertical markets with upgraded memory capacity in support of four DDR4 2933MHz up to 128GB (ECC memory supported by R680E and selected CPU). The Series show breakthrough results in parallelization processing of AI workloads, with up to 32 EUs fast AI inference driven by Intel® Xe Architecture.
High Expandability with PCIe Gen 4, RF Connectivity, and Workload Consolidation
Additional sockets for RF modules are also in place to support 4G LTE, 5G, Wi-Fi 6E, and BT 5.2, including one M.2 Key B for 4G/5G, one M.2 Key E for Wi-Fi 6E/BT 5.2, two Mini PCIe, and two Nano SIM card slots for option modules.
Moreover, the iEPF-9010S Series is equipped with flexible expansion slots for a variety of expansion cards via Gen 4 options of one PCIe x16 or two PCIe x 8 and two PCIe x4 for graphic cards, frame grabber cards, motion cards, and IO cards.
Rich IO Connectivity with TSN/TCC Real-time Computing
The Robust Edge AIoT platform features space-saving and fan-less design for various industrial applications. The iEPF-9010S/iEP-9010E Series feature rich I/Os and provide up to five Intel® 2.5 Gigabit LANs with two supporting PoE and one supporting vPro plus TSN/TCC capability for real-time connectivity.
Most Compact and Rugged Design for Industrial Environments
Featuring robust power design and ruggedness for industrial customers to deploy in rough environments, the new Series support 9V~36V VDC, a wide range of power input with ignition control, and remote power on/off switch. It also supports 80V surge protection, OVP, UVP, OCP, and reverse protection for additional durability under stress. always-on functionality even in a harsh environment.
The Series works under a wide range of temperatures from -40°C~75°C (35W CPU), with high shock and vibration resistance to ensure always-on functionality even in a harsh environment.
Robust Edge AIoT Platform
Edge AIoT Developer Kit for AI Automated Optical Inspection (AOI)
Industrial Edge AIoT Developer Kit brings automated optical inspection (AOI) to the next level by using Artificial Intelligence (AI) to consolidate AOI workloads. To meet the increasing demand for inspection accuracy and speed, while keeping cost and power consumption under control, the Edge AIoT Developer Kit delivers a complete package of hardware and software to build AI AOI solution.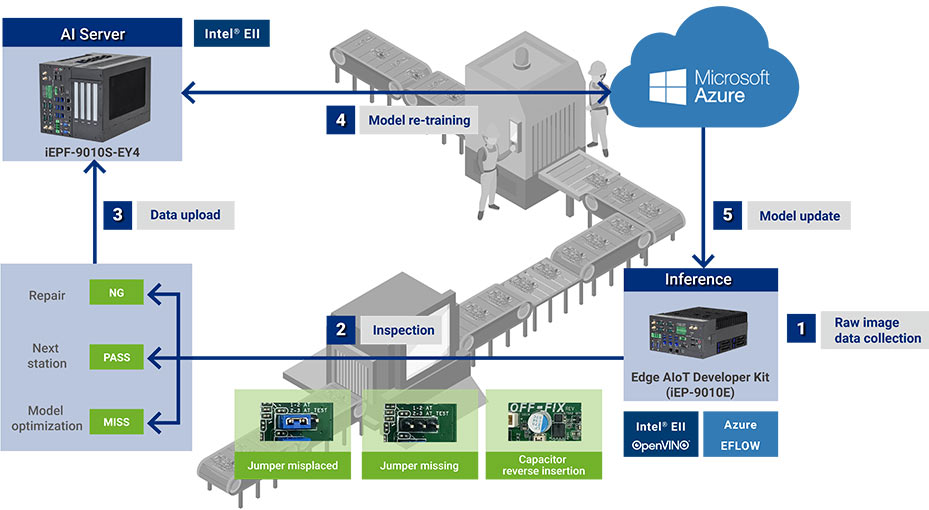 The Edge AIoT Developer Kit features the iEP-9010E Robust Edge AIoT Platform, powered by the 12th generation Intel® Core™ processor preinstalled with Intel® Edge Insights for Industrial (EII) running on Microsoft Azure IoT Edge for Linux on Windows (EFLOW). It enables manufacturers to deploy AI applications on Linux- Intel® OpenVINO toolkit, and different applications for AI AOI on Windows, such as PLC, HMI, frame grabber, etc. to consolidate Windows and Linux workloads under a small system footprint. The Platform reduces IT/OT maintenance, and the overall cost of manufacturing while keeping the competitive advantages.