Ultra-Compact Modular System for Intelligent Manufacturing: AD-IPC-220/240
AD-IPC-220/240, compact modular system powered by a 6th/7th generation Intel® Core™ i LGA1151 processor with Intel® Q170/H110 chipset. Equipped with 2/4 PCIe/PCI slots for integrating add-on cards, and compatible with Microsoft Windows 7/10 operating systems, IPC-220/240 provides the ideal system for traditional legacy control operations and industrial automation applications.
Aimed at harsh industrial environments as well as in-cabinet installations with limited space, AD-IPC-220/240 terminal features a compact form factor and supports a wide operating temperature range 0 ~ 45 °C. Because power distribution at intelligent factories tends to fluctuate, AD-IPC-220/240 is compatible with 19 ~ 24 VDC input power, making it easy to be integrated in diverse cabinet infrastructures. Moreover, AD-IPC-220/240 can also provide 5 VDC/2A and 12 VDC/2A power output to support another device and thus simplify cabling in the field.
Advantages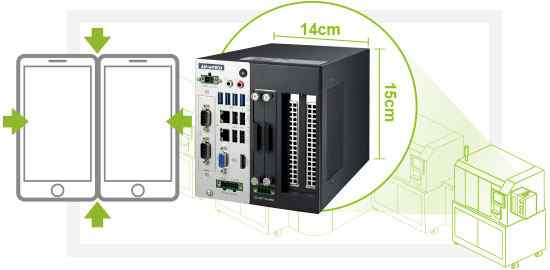 Ultra-Compact System with Card Expansion for Powerful Application
Designed to function as the intelligent edge for manufacturing equipment, AD-IPC-220/240 is an ultra-compact modular system   equipped with 2/4 PCIe/PCI slots for integrating diverse add-on cards, such as I/O cards, motion cards, vision cards, and GPU cards to support machine control and vision applications, or provide artificial intelligence for automated optical inspection (AOI) operations.
Easy Deployment with Flexible Power Design and Front-Facing I/O
To ensure easy deployment for IoT installations with limited cabling space and complex power requirements, AD-IPC-220/240 supports a wide power input range of 19 ~ 24 VDC and features front-facing I/O for easy access. The IPC-220/240 terminal can also support another device with the provision of 5 VDC/2A and 12 VDC/2A power output, simplifying in-field cabling requirements. Moreover, the system's I/O interfaces, which include two GigaLAN, six USB 3.0, two USB 2.0, two serial ports, one Audio-In, and dual display outputs (HDMI and VGA), are all located in the front panel for easy access and space savings.
Configuration:
Expansion Slot:
Model Available:
AD-IPC-220

6/7th Gen Intel® Core™ i socket-type (LGA 1151) processor with Intel® Q170/H110 chipset
IPC-220 chassis is compatible with PCE-2029 and PCE-2129 motherboards and supports PCIe x16 & PCIe x4 expansion slots

AD-IPC-240

6/7th Gen Intel® Core™ i socket-type (LGA 1151) processor with Intel® Q170/ H110 chipset
IPC-240-01A1 chassis is compatible with PCE-2029 and PCE-2129 motherboards. Supports PCIe x16, PCIe x4, & dual PCI slots
IPC-240-00A1 chassis is compatible with PCE-2129 motherboard. Supports PCIe x16, dual PCIe x4, & PCIe x1 slots