Twin Server: Leading Multi-node Architectures
Twin Servers are designed for the most demanding applications while also reducing OPEX through innovative design that reduces electricity usage and e-waste. The Twin family consists of 4 product families that all offer the benefits of shared power and cooling systems and utilize the 3rd Gen Intel® Xeon® Scalable processors.
Multi-node systems are designed so that all servers (nodes) are located within a single chassis with shared power supplies and fans. Supermicro has developed a product family that takes advantage of the latest available computing, storage, and networking technologies in the Twin product family. These systems are available in the TwinPro®, BigTwin®, FatTwin®, and GrandTwin® product lines. These product lines offer the latest CPU technology in various form factors and offer a significantly increased computing power and memory capacity density compared to traditional rackmount servers while reducing power consumption.
The Twin family consists of four product lines:
TwinPro: Cost-Effective 2U 4-Node Rackmount Server
TwinPro is the entry point into the Twin family. Four nodes, each containing two CPUs, can be configured in the TwinPro. Each node has 16 DIMMs, which give each node up to 4TB of high speed memory.
TwinPro® systems are designed for simplified deployment and maintenance, and assembled with the highest quality to ensure continuous operation even at maximum capacity. Optimized thermal design for maximum power efficiency.
Dual socket supported. TDP up to 185W,2 UPI
16 DIMM slots. Up to 4TB ECC RDIMM/LRDIMM DDR4-3200MHz
Support up to 6 hot-swappable SAS/SATA and 2 internal M.2 NVMe SSDs per node
Onboard dual 10GbE RJ45 ports with Intel® X710-AT2 controller
2 PCI-E 4.0 x16 LP expansion slots and 1 PCI-E 4.0 x8 (M.2)
2 Redundant 2200W Titanium Level (96%) power supplies
BigTwin: Leading Multi-node Architectures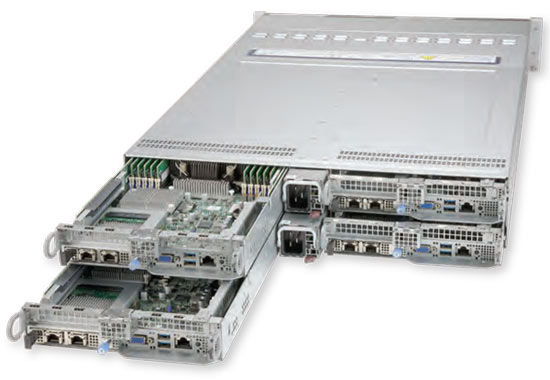 BigTwin continues to lead the industry with systems designed for low OPEX and high performance. The BigTwin is available in a 2U form factor, with either two or four nodes available. Each node can accommodate up to two 3rd Gen Intel Xeon Scalable processors.
BigTwin systems provide superior performance and serviceability with dual 3rd Gen Intel Xeon Scalable processors per node and hot swappable design. Superior modular mid-plane design with PCI-E Next Gen Storage Controller Options. Multi-node BigTwins with shared components can be more cost effective than standard 1U servers.
Highly configurable 2U 4-node and 2U 2-node systems
3rd Gen Intel® Xeon® Scalable processors, 2 per node, up to 270W TDP
All-hybrid hot-swappable drive bays - NVMe, SAS or SATA (2.5" or 3.5" drives) - Up to 12 NVMe drives per node
16 DIMMs + 4 Intel Optane Persistent Memory 200 series per node
PCI-E 4.0 AIOM (OCP 3.0 compliant)networking - 1 per node
GrandTwin: Highly Configurable Single Processor Systems with Front I/O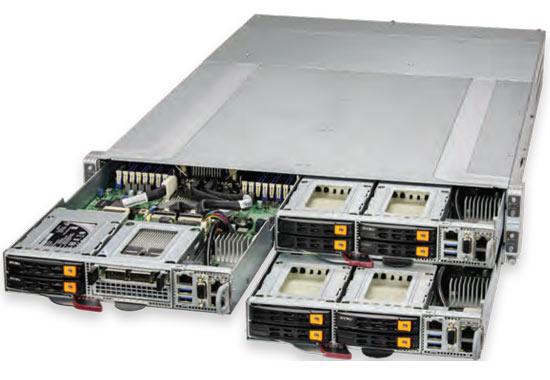 GrandTwin multi-node servers are designed to maximize front I/O and serviceability and features the latest 3rd Gen Intel® Xeon® Scalable processors. Designed explicitly for space-constrained installations with limited or no hot-aisle access, GrandTwin provides front access to all networking ports and node trays.
GrandTwin® is an all-new architecture purpose-built for single-processor performance. The design maximizes compute, memory and efficiency to deliver maximum density.
Purpose-built single-socket architecture with 3rd Gen Intel® Xeon® Scalable processors
16 DIMM slots per node for maximum memory footprint
Flexible configuration designed for better cost savings
Field serviceable from front/cold aisle to reduce downtime for higher availability
Flexible front I/O configuration design reduce cable complexities
FatTwin: Advanced Multi-node 4U Twin Architecture with 8 and 4 Nodes
FatTwin 4U multi-node system containing eight or four nodes. A true workhorse, the FatTwin is a battle tested platform deployed in some of the largest cloud datacenters. In addition, its flexibility allows customers to standardize on one platform for both their storage and compute needs in today's infrastructure environments.
The FatTwin® architecture provides flexibility and system accessibility. Unique one-half width nodes provides for 2 nodes per rack unit, which allows for modularized left and right nodes with redundant power supplies for maximum reliability.
Highly configurable 4U 8 node and 4 node systems
Front accessible service design for coldaisle serviceability
Hot-swappable drive bays – interchangeable NVMe, SAS or SATA
Better thermal with new optimized airflow designs for up to 165W processors
Dual 3rd Gen Intel® Xeon® Scalable processors up to 270W and 16 DIMM slots for maximum memory capacity