View Online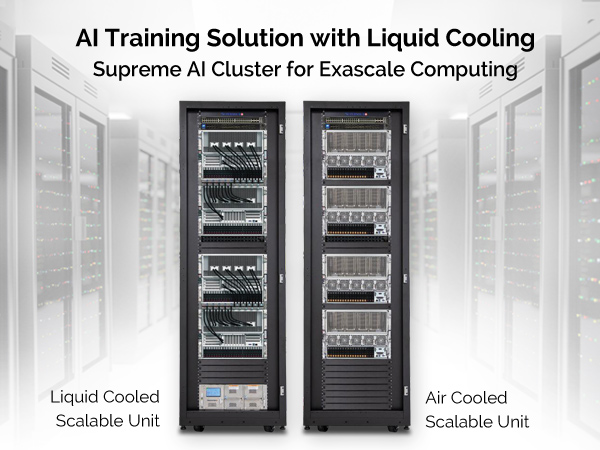 With the rising number of TDPs for both CPUs and GPUs, large-scale AI clusters will soon demand superior cooling technologies compared to air cooling.
Supermicro Rack Scale AI Solution offers air and liquid cooling options, which include Direct To Chip, Rear Door Heat Exchangers, and Immersion Cooling. Powered by high-quality liquid cooling components, Supermicro's AI solution provides dramatic savings in PUE and OPEX.
Types of Liquid Cooling
Direct To Chip
Liquid passes directly on the surface of a chip and draws heat away. The liquid is then cooled through a liquid to liquid heat exchanger.

Immersive Cooling
The entire system is immersed in a liquid which cools all components. The warm liquid is then chilled and brought back into the tank.
Liquid Cooling GPU Server
---
Advantages of Liquid Cooling
Switching from Air Conditioning to More Effective Liquid Cooling Reduces OPEX by more than 40%
Liquid Cooling Efficiency Dramatically Improves the PUE of Data Centers for High Performance, High Power CPUs, and GPUs
Reduces Costs and Environmental Impact
CONTACT US
62 Ubi Road 1, #04-14 Oxley Bizhub 2, Singapore 408734
Email: contactus@anewtech.com.sg Tel: +65 6292 0801
Click here to remove if you would like to stop receiving Anewtech eNews