AI Training Solution with Liquid Cooling
AI servers are ideal for medium to very large AI training scenarios and contain dual AMD or Intel CPUs and eight high-performance NVIDIA GPUs. This purpose-built highest density turnkey rack scale solution is extremely scalable and customizable to meet any scale of Deep Learning workload demands. 
Leveraging NVIDIA's cutting-edge NVIDIA H100 SXM GPU, these rack-scale AI solutions deliver unprecedented Deep Learning performance.
The Rack Scale AI Solution is powered by Supermicro GPU servers - the highest density and compact computation powerhouse. The cluster utilizes the latest NVIDIA HGX™ H100 GPUs to deliver incomparable performance. 
The design features 32 GPUs in the Base Package (Scalable Unit-SU), scaling up to 128 GPUs per POD (4 racks of servers) and 256 GPUs per SuperPOD (8 racks of servers).
Large-Scale NVIDIA H100 AI Training Solution with Liquid Cooling
Supreme AI Cluster for Exascale Computing
Scalable Design achieving unprecedented peak performance
Most Advanced Processors & Networking
Flexible and Superior Cooling Options
Representative Performance Benchmarks
Supermicro Advantages with Scale AI Solutions Plug and Play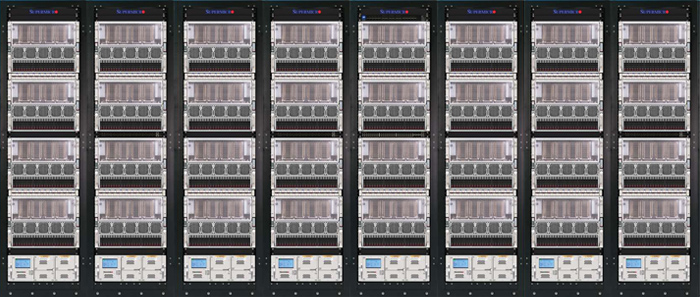 Flexible and Superior Cooling Options
With the rising number of TDPs for both CPUs and GPUs, large-scale AI clusters will soon demand superior cooling technologies compared to air cooling. 
Supermicro Rack Scale AI Solution offers air and liquid cooling options, which include Direct To Chip, Rear Door Heat Exchangers, and Immersion Cooling. Powered by high-quality liquid cooling components, Supermicro's AI solution provides dramatic savings in PUE and OPEX.
Types of Liquid Cooling for your Data Center
Benefits of Different Liquid Cooling Options
| | | | |
| --- | --- | --- | --- |
| Method of Cooling | Direct To Chip | Immersion | Rear Door Heat Exchanger |
| Primary Benefit | Range of Servers can be used | Most Efficient | Least Disruptive |
| Secondary Benefit | Lower fan speed, noise | Lowest/No Noise | Can be installed later |
Superior Effectiveness of Liquid Cooling 
Switching from Air Conditioning to More Effective Liquid Cooling Reduces OPEX by more than 40%
Liquid Cooling Efficiency Dramatically Improves the PUE of Data Centers for High Performance, High Power CPUs, and GPUs
Reduces Costs and Environmental Impact
Liquid Cooling GPU Server