AMD EPYC™ 9004 Series Servers Enable High Performance Data Centers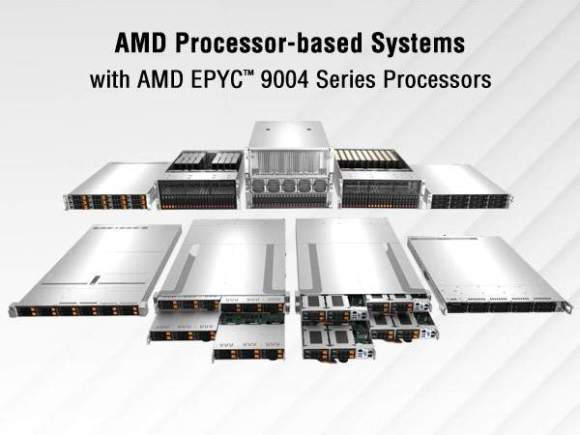 The new AMD server product line, based on 4th Generation AMD EPYC™ CPU supports a broad spectrum of workloads and excels at helping a business achieve its goals, which are highlighted here:
Best business outcomes across industries and workloads
Highest performance x86 server processor
Leadership x86 energy efficiency
Assurance of confidential computing
A significant ecosystem of solutions
How 4th Generation AMD EPYC Processors Enhance Workloads and CPU Highlights
While the performance of computing systems continues to increase over time with AMD's innovations, different workloads require this new performance, while other workloads benefit from the lower cost per unit of work. For example, while the performance of CPUs increases, typical Enterprise workloads (HR, ERP, Inventory Control, etc.) mainly do not require the performance gains from generation to generation but rather benefit from assigning more work to a given CPU.
New Enterprise workloads, such as analytics, video conferencing, and application delivery, require performance improvements to take advantage of the new 4th Generation AMD EPYC processors' new performance levels. HPC and AI require both increased core numbers, increased GHz, and parallelization and networking outside the system.
---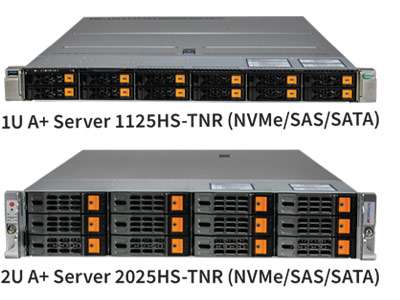 Hyper Systems:
Enterprise-focused platform designed for utmost performance and flexibility

Gain high performance, flexibility, scalability and serviceability to demanding IT environments, and to power mission-critical enterprise workloads.
Two 4th Gen AMD EPYC™ processors
24 DIMMs for up to 6 TB of DDR5-4800 memory
Flexible NVMe, SAS, and SATA3 drive options
Configurable PCIe 5.0 expansion capabilities with CXL 1.1+ memory expansion
Open Compute Project (OCP) 3.0 AIOM slots
Titanium-Level efficiency power supplies
---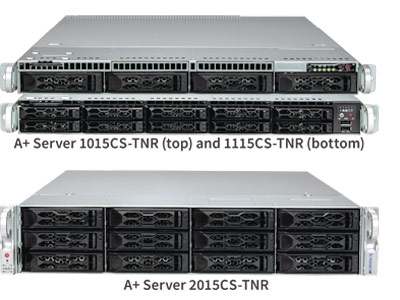 Cloud Data Center Systems:
Single-Socket 1U and 2U Options

Flexible configurations for I/O and storage designed for cloud data centers
Single-socket servers with up to 96 cores of 4th Gen AMD EPYC processor performance
Tool-less design for rapid deployment and easy maintenance
Up to 3 TB of memory with 12 DDR5-4800 DIMMs
PCIe 5.0 I/O with CXL 1.1+ for double the bandwidth of our prior generation servers
Two 16-lane AIOM slots for flexible networking
2.5" and 3.5" NVMe and SATA drive options to meet virtually any workload storage requirements
---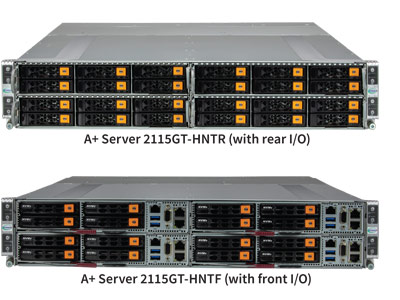 Twin Systems:
2U, 4-Node-Per-Chassis Flexible Architecture

Maximize resource savings through shared power and cooling
AMD EPYC™ 9004 Series Processors with up to 3TB of DDR5-4800 memory per node
Up to six 2.5" NVMe or SATA drives per node
PCIe 5.0 with CXL 1.1+ support
Front I/O configuration enables field service from cold aisle to help reduce downtime
Flexible networking options with PCIe 5.0 OCP 3.0 interfaces
Redundant Titanium level power supplies
---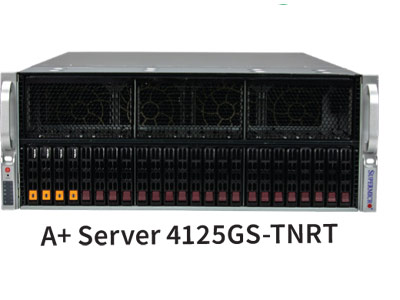 4U GPU Systems:
GPU-Dense Servers Optimized for Compute-Intensive Workloads

Support up to 10 GPU accelerators of your choice plus bandwidth to spare for networking and disk storage
PCIe 5.0 connectivity throughout including direct-connected, single-root, and dual-root options, plus CXL 1.1+ support
Supports the latest GPUs, including AMD Instinct™ MI210 and NVIDIA® H100
2-socket design supporting 4th Gen AMD EPYC™ Processors
Up to 24 DIMMs for up to 6 TB of DDR5-4800 memory
Flexible PCIe slot options for I/O and networking
Titanium-Level efficiency power supplies
---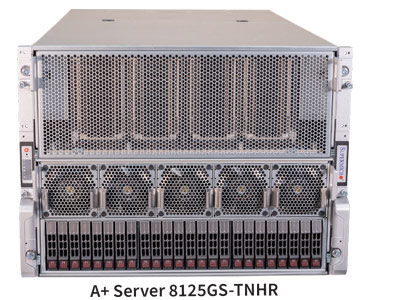 8U GPU Systems:
Propel ML Workloads with 4th Gen AMD EPYC™ Processors and NVIDIA® HGX H100 8-GPU Modules

Optimized for machine learning through massive I/O capacity
End-to-end nonblocking I/O to keep GPUs hydrated with data
2-socket design supporting 4th Gen AMD EPYC™ Processors
Up to 24 DIMMs for up to 6 TB of DDR5-4800 memory
Flexible PCIe 5.0 options for I/O and networking
Dual-zone cooling optimized for performance and lower operating costs
Titanium-Level efficiency power supplies
---
Various workloads are all addressed by 4th Generation AMD EPYC servers and storage systems. These include:
High-Performance Computing (HPC) – HPC systems are used by more than just university and national lab researchers. Enterprises integrate HPC systems into everyday workflows to bring products to market faster or discover new vaccines and drugs. HPC systems require fast cores, large amounts of memory, and fast networking between systems.
 
Cloud – Designing and implementing a cloud solution requires a wide range of optimized products for different workloads, not just for environments where the price performance of the compute aspect is most important. Storage and networking are also critical for a productive and cost-effective cloud data center.
 
Artificial Intelligence (AI) – Systems with fast CPUs and associated GPU sub-systems are required for the growing AI use cases. The AMD servers can house up to 10 GPUs in a 4U rack height and excel at AI applications, enabling faster training and inference applications. 
 
Big-Data Analysis – As the volume of data generated everywhere explodes, the systems must access, analyze, and present structured and unstructured data to the user. These tasks require the ability to hold an increasing amount of data in memory, fast computation, and quick data communication to GPUs if needed.
 
Virtualization – With many enterprises utilizing virtualization technologies to get higher utilization from existing servers, the new servers, with the 4th Gen AMD EPYC processors, allow for higher-powered virtualization machines, as there are more cores available and faster CPUs.
 
Enterprise – Typical enterprise workloads will benefit from the new AMD systems with increased performance and reduced costs. In addition, existing workloads will execute faster, using less power than previous generations.