AMR with Lift Solutions
Autonomous Mobile Robots (AMR) with lifting capacity up to 150kg payload, is reshaping the landscape of factory logistics. The robots are seamlessly handling the transportation of heavy materials with shelf, injecting a new vitality into industrial transformation.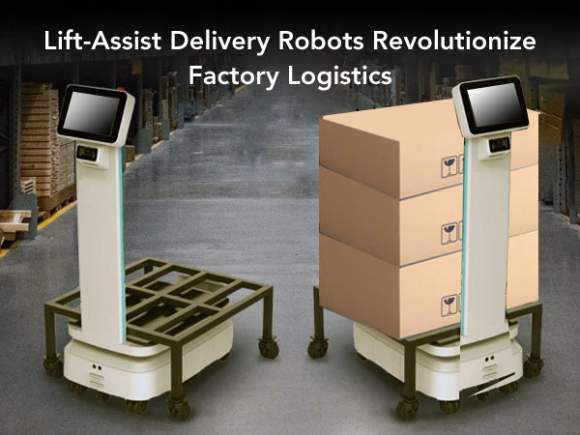 AMR robots with lifting solutions
AMR renowned for their high automation, safety, flexibility, and adaptability, are emerging as the favored choice in the factory logistics sector. Shelf lifting AMR, equipped with an intelligent task control scheduling (TSC) system, efficiently undertakes high-intensity material handling tasks, disrupting the traditional "search for goods" model and introducing the novel concept of "goods to people."
They can lift and deliver products with precision which adds an additional level of functionality to the AMR. When AMR equipped with a lifting solution arrives at a docking station, the advanced lifting mechanism enables effortless loading and unloading of goods, streamlining the transfer process to various destinations, such as assembly lines or storage areas. This integration eliminates manual handling, reducing the risk of errors and ensuring a smooth flow of operations.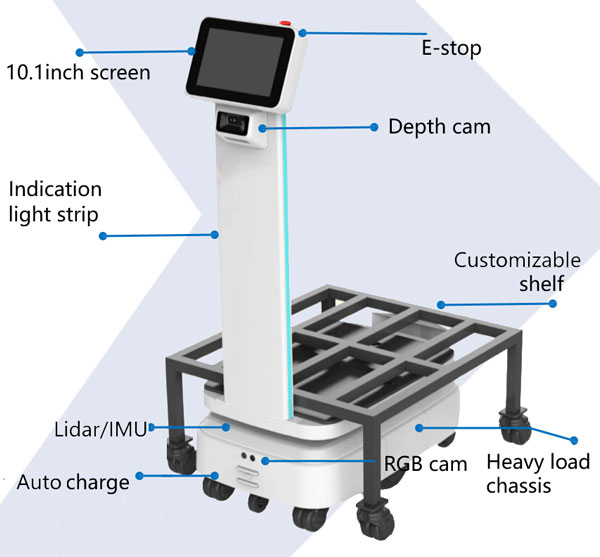 Items
AMR with Lift Soltuions
Dimension WxLxH (cm)
50 x 71 x 124
Shelf Size WxLxH (cm)
66 x 70 x 35 
Shelf is customizable
Max Load
150kg
Velocity
0.1~1.5m/s
Min passing space
80cm
Slope
≤8°
Localization Accuracy
Centimetre Level
Network
4G/wifi
Battery
30Ah
Operation screen
10.1 inch
Operation time 
Continuous working>10h
Charging hours
5.5hr
Highlights of AMR Robots with Lift Solutions
Autonomous Navigation, Intelligent Scheduling:
The robots require no QR code navigation and support various intelligent navigation modes. Under the unified scheduling of the TCS platform, the robots autonomously move between factory transport points, significantly enhancing transfer efficiency and providing users with a comprehensive mobile robot solution.
Improve Handling Efficiency:
Navigating through narrow passages and irregular terrains, the robots showcase the ability to calculate optimal routes autonomously and employ obstacle avoidance, thereby improving overall handling efficiency.
Agile Obstacle Avoidance, Adaptability:
Without the need for QR code navigation, the robots possess multiple obstacle avoidance features, capable of handling unforeseen circumstances to ensure the safety of both the robots and personnel.
Automatic Charging, Uninterrupted Operation:
The robots exhibit flexible endurance, supporting both automatic and manual charging methods, ensuring continuous execution of material handling tasks.
Large Payload Capacity of 150kg:
Particularly suited for the manufacturing industry, the robots effortlessly handle the efficient transfer of materials and production line supplies.
Compact Size, Extensive Range, Effortless Lifting:
The robots support autonomous recognition of shelf positions, swiftly and safely moving to the center of the shelf to ensure stable lifting during transportation.
AMR with lifter Applications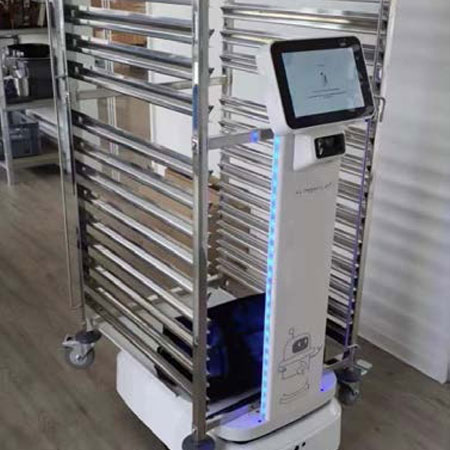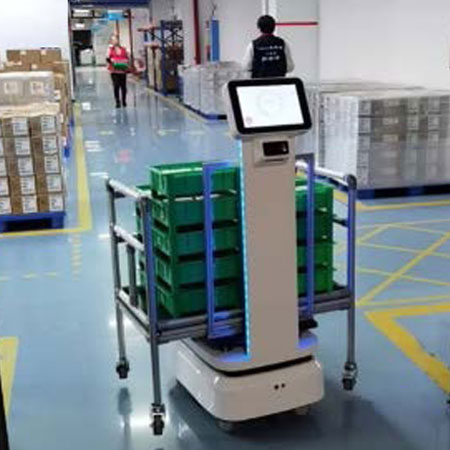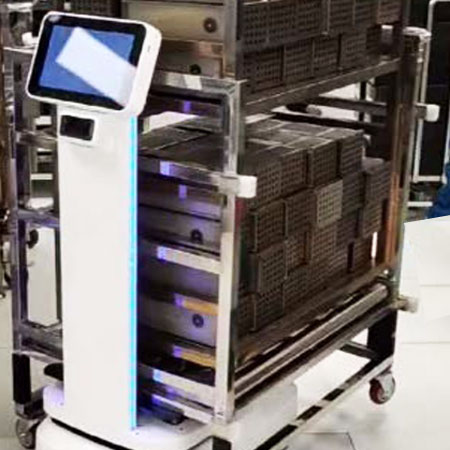 ---
AMR with lift solutions automate the transfer of semi-finished products between factory production lines. Simultaneously, they facilitate intelligent communication between production lines, injecting a greater level of intelligence and efficiency into the manufacturing process. This technology not only enhances material handling efficiency but also alleviates the strain on human resources, infusing innovation and vitality into industrial transformation.