Nowadays, most vehicle-based line of work requires  fleet management system to increase job efficiency,  for tasks such as transporting goods or garbage truck waste collection.
In-vehicle computers are needed for control centers to track and optimize the route for each vehicle as well as provide the information on the latest task that needs to be completed for increased productivity and efficiency. These devices require always on connectivity, whether through GPS or other extensive wireless options for constant updates and fleet tracking.
Anewtech provides in-vehicle device solution for fleet management including in-vehicle computer, vehicle-mounted computer, and rugged tablet with vehicle docking. Rugged devices are able to withstand constant use with anti-shock/vibration designs.
 Vehicle-mounted Computer Features:

Withstand vibration and 24hrs operation
4G/LTE connectivity without interruption
Safety: using GPS, lock the touch screen and dim the display when the vehicle is moving.
Withstand extreme heat
Variable DC power Input 10-60V to accommodate various truck configurations.

Rugged Tablet PC Features:

P-Cap Touch Optical Bonding for sunlight readability
Supports Windows 10 IoT, Android, Ubuntu OS
Barcode, NFC, RFID, Smart Card Reader options
Long Battery Life with hot swappable design
Wi-Fi, BT, LTE, GPS options for real time data integration
IP65 rated and MIL-STD-810G compliant to withstand shock, vibration, 4 ft drops.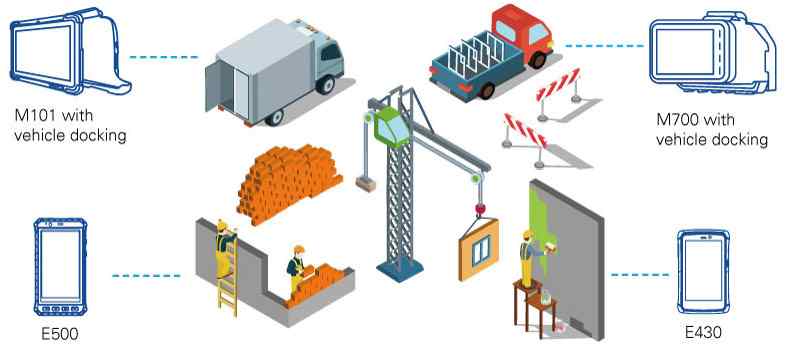 Applications
Visibility from Pick-up to Final Delivery

Real time data analytics can often identify carrier issues before even the carrier is aware.

Route Planning Optimization

GPS allows drivers to change routes depending on current traffic blocks. It instantly communicates road updates which optimizes route planning to reduce daily delivery loading.

Eliminate Manual Processes and Errors

Enable front-line worker to accurately pick, ship, and deliver product to customers seamlessly

Enhance Efficiency of Inspections

Offer superior wireless performance, durability that is second to none, and true lightweight portability.
Featured Products
Windows-based Vehicle Mounted Computer
Android-based Vehicle Mounted Computer
Learn more: https://www.winmate.com/