Marine Freight Transportation System
In maritime activities and naval forces, rapid, reliable, and durable technology are mission-critical. We offer marine products that feature industrial-grade design  to ensure safety and performance.
The innovative Marine Panel PC, Display, and EAC Box PC deliver power, peripheral connectivity, and the ability to control and power multiple devices at once while meeting marine equipment standards DNVGL-CG-0339, IEC60945, and IACS E10.
Our Marine PPC, Display, and Edge computing devices include:
Marine Edge Computing
ECDIS Marine Panel PC with DNV Standard Certification
Features:

Optimal performance in harsh environments, including exposure to humidity, shock, and vibration

Reliable use in all daytime lighting conditions with transflective or high brightness screen options

Convenient brightness control and viewability in the day, night, and dusk

Long product life-cycle to guarantee compliance with existing systems for many years, thus reducing TCO
Safety and Standards
All marine products are built and tested according to DNV 2.4, IEC60945, and IACS-E10.
| | |
| --- | --- |
|   | DVN GL is an autonomous and independent foundation with the objectives of safeguarding life, property, and the environment at sea and onshore. DNV certification related to ships' quality, offshore units, and installations of the system and components. DNV Requirements are harmonized with IACS Unified Requirements E10 and IEC publication 60945. |
|   | International Association of Classification Societies (IACS) is an organization that provides technical support and guidance for promoting the safety of life, property, and the environment through the verification of compliance with technical and engineering standards for the design, construction, and life-cycle maintenance of ships, offshore units and other marine-related facilities. |
|   | Equipment wished to be used in navigation and radio communication systems is to comply with IEC Publication No. 60945, "Maritime navigation and radio communication equipment and systems – General Requirements- Method of testing and required test results." |
ECDIS Color Calibration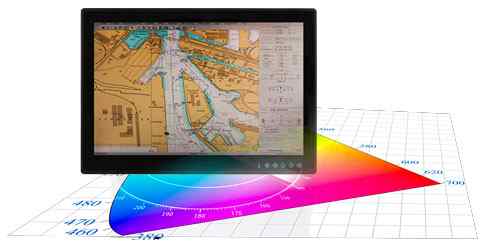 The Marine Displays and Panel PCs can be adjusted today, dusk, or night mode to accommodate any lighting situation. The CIE x, CIE y, CIE z are measured from 63 color tokens per mode (Day, Night, and Dusk).
These color settings are calibrated at the factory to achieve accurate color reproduction referred to by the IEC 61174 Standard. In the ECDIS-color calibrated models, quick function keys allow instant brightness adjustment to any three modes.
Applications: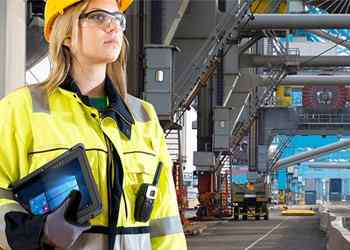 Port Automation
The IoT technologies for port management bring several advantages, including resource optimization, decreasing the significance of human error, and more efficient transportation control. The efficient administration of a port involves managing these activities and resources, managing the flows of assets and using these resources, and providing management information.
We offer tools to execute comprehensive strategies for container yard management, optimizing terminal capacity, and providing complete visibility over performance and maintenance needs. Rugged mobile devices facilitate smooth logistics and timely loading/ unloading of cargo.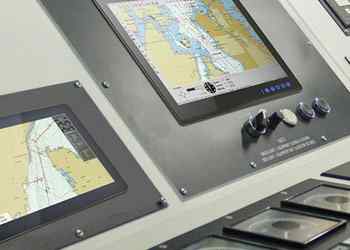 Bridge Systems & Control Centers
The marine field deals with important ecological difficulties, for that reason the trusted as well as tough systems is vital. Modern ships has a number of innovative navigating tools systems which offer precise information for the trip. Marine Displays, Panel Computers  with capacitive touch display and also a number of attributes customized for aquatic applications. Practical interface as well as performance of application-focused marine Panel Computers  offer ship navigating officer exact place info as well as a full picture of the trip.
Marine panel PC can be part of a marine bridge system designed to plot and monitor a vessel's position. Create your perfect solution for applications on the dock, on the open deck, or in the control room or bridge.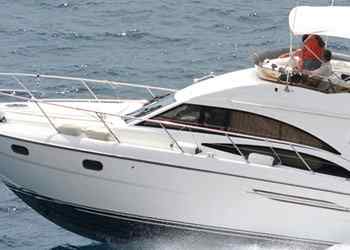 Yacht Navigation Systems
Navigating a yacht around the world's most exotic and testing locations is no easy task. The captain needs a reliable navigation system to safely seal around the world. We offers durable marine-grade panel PCs with touch screen and embedded automation controllers for the best experience and safe sealing.
Deploy our computing solutions for the navigation, communication and entertainment systems for your next-generation digital boat or yacht.
Featured Products
Learn more: https://www.winmate.com/