For logistics and the supply chain to remain competitive in the new era of IoT,user must make use of connected technologies. Digital technologies connect data between cargo at road, and with terminal operators and authorities, and even inland for inter-modal traffic.
Logistics operations must evolve to keep up with customer's needs. Digital solutions that enable supply chain partners to receive cargo information well in advance of arrival increases efficiency and trade competitiveness
Forklifts equipped with vehicle mounted computers can solve main challenges in material handling. Modernized automated technology to reduce labor costs, minimize errors, streamline ordering and inventory management, and improve operational efficiencies.
Data collection, advanced communication, and connectivity are essential to efficient warehouse operations. Rugged tablet and PDA enable automation in the warehouse. Use may Check a shipment's status and locate inventory records instantaneously.
Rugged tablet and PDA increases material handling, reduces costs associated with handling delays, and streamlines the supply chain. A built-in barcode scanner or RFID reader allows tracking incoming and outgoing shipments while storing and monitoring inventory information in the warehouse in real time.
Innovative Technology
RAM mount and VESA mount solutions
Wide range power input and ignition control
Built-in defroster to work in cold storage
Screen blanking function to automatically control screen behavior
Waterproof, dust and drop resistant IP65-rated enclosure
Accessories tailored for warehouse and logistics applications
Industrial Challenges
| | |
| --- | --- |
| In-vehicle installation | Computer hardware tailored for warehouse and logistics must be compatible with in-vehicle installation methods RAM mount or VESA. |
| Unstable power supply from the vehicle | Instability during start-up and shutdown can cause system crashes and restarting issues. Devices that receive power from the vehicle must have a solution to ensure stable performance in unstable power supply situations. |
| Working in a cold storage | In a large warehouse environment forklifts usually go back and force the cold and normal ambient storages. The computer devices must show the same stable performance in both low and high temperatures. |
| Driver's safety | Computer must not to distract driver |
| Strong vibration | Devices installed on a forklift must be rugged enough to withstand all-day operations with vibration from the vehicle. |
Safety and Standards
| | |
| --- | --- |
| Approvals/ Marking | CE, FCC, UL60950-1, EN60950-1, PTCRB, FCC (Electromagnetic Emissions), IC (ICES-003) |
| Full IP65-rated | Water and dust proof |
| Tested according to MIL-STD-810G | Shock, vibration, drop |
| Mobile Device Management | SOTI MobiControl compatible |
Applications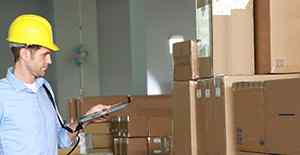 Faster Data Entry
By implementing scanning with mobile devices, operator can greatly improve efficiency and cut down on task completion time. This will allow management to optimize manpower for value-adding activities.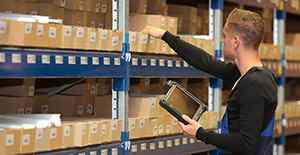 Reduce Manual Check Cost
With hands-free technology, operator can improve tasks such as viewing pick or pack lists, scanning items and locating bins, among others. This reduces the costs related to manual inventory checks.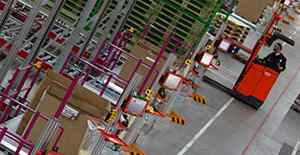 Streamline Inventory Management
Greatly improve company's supply chain visibility, view up-to-date information on inventory database, which can also help the shipping department to verify the order and print bills laden with all the customer shipping information.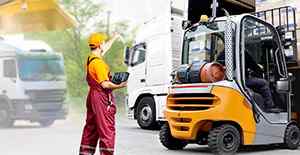 Reduce Shrinkage and Loss
Increase profitability by having continuous visibility into how and where inventory is being used and accessed, as well as ease of restocking unused materials and returns
Featured Products
Rugged Handheld & Vehicle Mounted Computer
Rugged Tablet PC
Learn more: https://www.winmate.com/