OEM / ODM Service
Welcomes all OEM/ODM Projects
We have the experience, capability, and R&D resources  to bring your concepts and ideas into viable computing solutions. We work with individuals and companies from concept to finish, in a highly focused effort to bring industry level products and services to you. 
Once customer provides us with concept information and detailed specifications, we propose the total cost for design, prototyping, and estimated cost per unit before the project begins. Anewtech works with customers until they are satisfied and all original design requirements are met, and the product performs exactly to customers' expectations. 
From embedded integrated systems to application ready platforms, Anewtech's OEM/ODM services cover the full project life cycle.  We maintain stringent quality standards in our manufacturing processes, and ensure products go through rigorous quality checks at every stage of production. 
OEM/ODM Service for System Configuration and Integration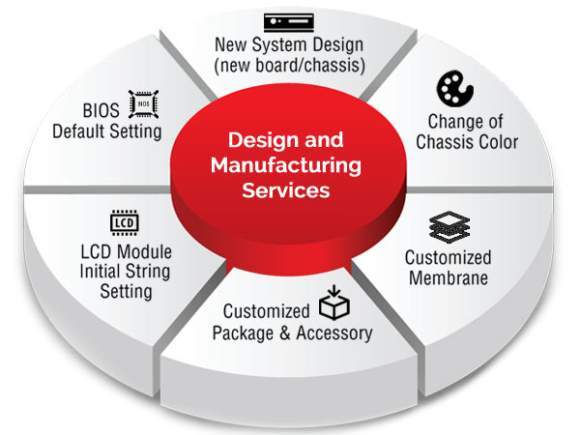 A Comprehensive Customization Service to Meet Your Requirements. 
With decades of industrial computing experience, Anewtech provides customize to order services, which is a cost-effective and time-to-market solution by manufacturing new system based products or modifying existing products to fit customer business requirements, such as BIOS setting, component change by using current PCM layout, chassis color change, and packing accessories etc. 
ID and Mechanical Customization
Customized Accessories and Peripherals
System Assembly
Custom CMOS/BIOS Setting
OS Installation
Completed System Test
Customized Packing Carton

Design in Service

Modular Hardware Design
Anewtech's embedded design capability allows it to offer a full range of embedded board solutions available in different form factors. From industrial motherboard to SoM (System on Modules) and SBC (single-board computers), all board platforms come with a highly expandable design that can be customized to include high-performance CPU for enhanced computing power or to support specific features such as wireless communication or multiple displays.

Mechanical & ID Design 
Anewtech has a long history of providing solutions tailored to clients' unique needs or operations. After taking the ideas from customers about how they want their device to look and operate, including thermal solution, dimensions, physical appearance, preferable colors, and user interfacing, Anewtech will create a solution to pull all these elements together nicely to meet their expectations. 

BIOS & Firmware Customization 
Anewtech's customized BIOS and firmware services can implement many specific features for specific vertical market demands and help customers to differentiate their embedded products and applications. 

Embedded Software Services 
To optimize system resource demand, reduce total cost of ownership, improve system reliability and system design time to market, Anewtech provides embedded software services including embedded OS service development, software API utility and driver supporting service. Anewtech is committed to helping customers from the very beginning planning stages to successfully complete system delivery. Anewtech's Embedded OS services for easy access and control for all platform device functions and the ability to develop a user-friendly interface.

Design & Manufacturing Service from Concept to Launch
We integrate customers idea, specification and selection of components into our solutions to deliver the performance exactly as customers expected, at the same time taking every critical factor into consideration, whether it be processing speed, storage capacity, noise reduction, ventilation, data acceleration, or peripheral arrangement. All aspects are tested, and executed to assure our customers of top quality and maximum performance.  

Initial Planning
Product selection
Domain knowledge sharing
Comprehensive document support

Design & Debug
Product selection
Domain knowledge sharing
Comprehensive document support

Validation
Product selection
Domain knowledge sharing
Comprehensive document support

Ready to Ship
Product selection
Domain knowledge sharing
Comprehensive document support