AD-AIMB-586
Intel® Xeon® E3/ 8th & 9th Gen Core™i7/i5/i3 LGA1151, MicroATX withHDMI/2 DP++/eDP (LVDS)/6 COM, 4 LANs,USB 3.1, ATX or 12V DC-IN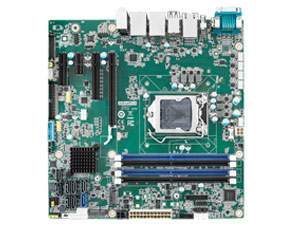 Supports Intel® 8th Gen Xeon/ Core™ i7/i5/i3 processor with Q370/C246 chipset
Four U-DIMM sockets support up to 64GB DDR4 2400/2666 MHz SDRAM
Supports HDMI2.0a(option),2 DP++,eDP/LVDS(option) display
Supports Intel AMT 12.0 and Intel vPro competent
Supports PCIE Gen3, 4 USB3.1, 10 x USB2.0/USB 3.0, upto 4 x SATAIII and quad GbE LAN, M.2(M-key),M.2(E-key)
Supports Software RAID 0, 1, 5, 10, TPM 1.2/2.0 (optional)
Supports WISE-PaaS/EdgeSense and Embedded Software APIs
Product Specification

AD-AIMB-586, the newest industrial-grade Micro-ATX motherboard based on the Intel® Q370/C246/H310 chipset supporting the latest 8th generation Intel® Core™ I /Pentium®/ Celeron® and E3 Xeon® processors. Providing high computing and graphics performance with high expandability, AD-AIMB-586 is an ideal platform for multiple applications in medical, test & measurement equipment, surveillance, Robot AGV, robot controllers and more. It bundled with WISE-PaaS/RMM software package that offers remote management and security features, plus smart software that boosts IoT applications from the edge to the cloud.
High Expandability and Rich I/O Connectivity 
AD-AIMB-586 is equipped with multiple high speed I/O including: 4 x USB 3.1, 2 x USB 3.0, 8 x USB 2.0 (2 from 2nd USB controller), 6 x SATAIII (C246 sku up to 8 x SATAIII), and 2 x M.2 (M-Key x 1; E-Key x 1) supporting NVMe storage and WiFi modules.
It also supports 16-bit digital programmable I/O, 6 x COM (1 x supports RS-232/422/485) and a 6W audio amplifier (6W-2ch). AD-AIMB-586 also comes with a maximum of four PCIe expansions: PCIe x16, 2 x PCIe x8 (BOM option), PCIe x4, or PCIe x1. The PCIe Gen3 x16 slot is reserved for high performance GPU cards, the x4 slot is suitable for beamformer cards, capture cards, or HW RAID cards for applications in medical, surveillance, and edge workstations.
Flexible Dual Power Support and Max 4 LANs Design 
AD-AIMB-586 provides flexibility with two power sources options, both ATX and 12V DC-in power sources have been implemented, it's compliant with ATX PSUs and power adaptors. AD-AIMB-586 offers four Gigabit Ethernet ports and Intel iAMT 12.0 and vPro is supported (Q370/C246 PCH with selected CPU) making it highly suitable for network and security related applications.

Excellent Graphics Performance and Strict ESD Protection & Certification   
With advanced HD graphics performance, AD-AIMB-586 integrates Intel HD Graphics with DX11.1, OpenCL2.1, and OpenGL5.0 to deliver enhanced graphics performance. AD-AIMB-586 supports three independent displays; either in clone mode or extended mode using HDMI, DisplayPort1.2, eDP, and LVDS (option) with high 4K2K resolution.   
With enhanced Electrostatic Discharge (ESD) design, AD-AIMB-586 attains the (ESD) level 4 standard (contact 8kv and air 15kv) for high end applications. For medical appliances, an ESD tolerance level is one of the most crucial features needed to protect systems in sensitive environments.