Digi IX15
Programmable IoT gateway connects Digi XBee-enabled devices to remote applications over cellular and Ethernet Digi IX15 with Digi Remote Manager®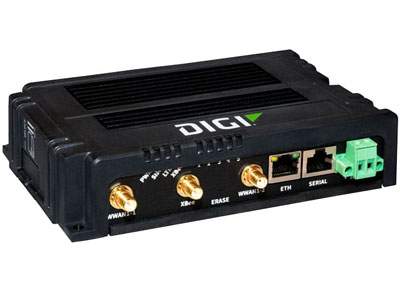 Digi XBee® (Zigbee®, DigiMesh®, 802.15.4), Bluetooth® 5.0 and RS-232/485 for connection to local devices
Open source Python environment for custom application development
LTE Cat 4 cellular and 10/100 Ethernet WAN connectivity
Digi Remote Manager® platform for easy setup, mass configuration/firmware updates, remote device management and out-of-band management
Full-featured industrial cellular routing platform
Redundant connectivity with dual SIMs and Digi SureLink®
Built-in Digi TrustFence® for device security, device identity and data privacy
Product Specification
DIGI XBEE®
XBEE MODULE
Standard: Digi XBee® 3 Zigbee 3.0 MMT    
PRO: Digi XBee® 3 PRO Zigbee 3.0 MMT
XBEE STACK
Zigbee® Standard and Zigbee PRO versions available
ZIGBEE TRANSMIT POWER
Standard: 6.3 mW (8 dBm); PRO: 63 mW (18 dBm)
ZIGBEE RECEIVER SENSITIVITY
-102 dBm
XBEE CONNECTOR
(1) 50 Ω RP-SMA (center pin: male)
CELLULAR
BANDS
LTE Cat 4: B1, B2, B3, B4, B5, B7, B8, B12, B13, B18, B19, B20, B25, B26, B28, B38, B39, B40, B41    
3G: B1, B2, B4, B5, B6, B8, B19    
2G EDGE / GPRS: 850 / 900 / 1800 / 1900 MHz
CONNECTORS
(2) 50 Ω SMA (center pin: female)
SIM SLOTS
(2) Mini-SIM (2FF)
SIM SECURITY
Behind SIM cover, secured with screw (#1 Phillips)
SOFTWARE AND MANAGEMENT
PYTHON
Python 3
REMOTE MANAGEMENT
Digi Remote Manager®; SNMP v2/v3 (user installed/managed)
LOCAL MANAGEMENT
WebUI (HTTP/HTTPS); CLI (Telnet, SSH)
MANAGEMENT / TROUBLESHOOTING TOOLS
FTP client, SCP; protocol analyzer with PCAP for Wireshark; event logging with syslog and SMTP client; NTP/SNTP; Nagios, Intelliflow, iPerf, Dynamic DNS, ping, traceroute
ETHERNET
PORTS
(1) RJ-45; 10/100 Mbps (auto-sensing)
SERIAL
PORTS
(1) RJ-45 10-pin (10P10C); RS-232/485; software selectable    
- RS-232 DTE (RXD, TXD, RTS, CTS, DTR, DCD, DSR, RI)    
- RS-485 (TX/RX+; RX/TX-); half-duplex
PHYSICAL
DIMENSIONS (L x W x H)
157 mm x 106 mm x 35 mm (6.18 in x 4.17 in x 1.38 in)
WEIGHT
0.39 kg (0.86 lb)
STATUS LEDs
Power, SIM, LTE/Internet, XBee, signal strength (5)
ENCLOSURE
Glass-filled polyphenylene sulphide (PPS) / IP30
POWER REQUIREMENTS
POWER INPUT
9 - 30 VDC, 1.0 A maximum
POWER CONSUMPTION
2.5 W typical (idle); 6 W typical (peak Tx/Rx)
ENVIRONMENTAL
OPERATING TEMPERATURE
-40° C to 74° C (-40° F to 165° F); device performance may be impacted above 60° C (140° F)
RELATIVE HUMIDITY
5% to 95% (non-condensing)
SAFETY
UL60950-1, IEC62368-1, CB, EN62311, UL 121201/CSA 213 (Class 1, Div 2)
ENVIRONMENTAL
ROHS3
EMISSIONS / IMMUNITY
CE; RED; FCC Part 15, Subpart B*; ICES-003; AU/NZS CISPR32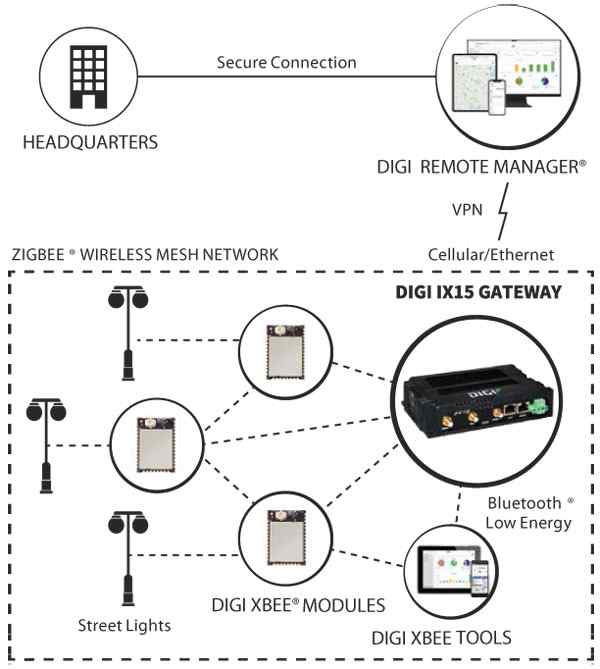 With certification for Class 1 Division 2 deployment and rugged enclosure, Digi IX15 is ideal for the harsh environments found in oil and gas, water/wastewater, solar, agriculture and other industrial applications. For developers needing a highly secure, common platform to cut costs and time-to-market, Digi IX15 reduces risk and drives project efficiencies.
The Digi IX15 IoT gateway includes a simple, open source Python development environment that enables custom applications to perform edge computing locally while providing the most optimal, resilient connectivity between your XBee network and cloud-based applications. Gain critical insights into your deployed devices and manage your network with Digi Remote Manager® (Digi RM) — the command center for your deployment.
Digi RM is a cloud-based solution that facilitates easy setup, mass configuration, maintenance and visibility into the health of your network, whether you deploy dozens or thousands of devices.
In the event of an interruption to your primary network connection, Digi RM also provides secure terminal access for out-of-band management of edge devices via serial port and command-line interface.