Edgeport
Edgeport USB-to-Serial Converter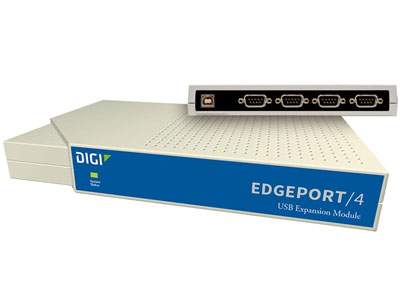 Add 1, 2, 4, 8, or 16 serial ports to a PC or thin client in minutes
RS-232, RS-422, or RS-485 serial ports (software selectable)
USB plug-n-play alternative to PCI cards
Galvanic isolated, industrial and compact models
Rack-mount options
Product Specification
Item
Edgeport Serial
Edgeport Extended Safety
Edgeport Industrial
Edgeport Compact
Interfaces (Varies by Model)
Serial Ports
1, 2, 4, 8 or 16
4 (separately isolated)
1, 2, 4 or 8
2
Serial Type
RS-232
RS-232/422/485
RS-422/485, software selectable RS-232/422/485
RS-232
Serial Connector
DB-9, DB-25
DB-9
DB-9
DB-9
Serial Data Rate
230 Kbps per port simultaneously
230 Kbps per port simultaneously
230 Kbps per port simultaneously
230 Kbps per port simultaneously
Downstream USB Ports
4 (16-port models only)
1 (separately isolated)
0
0
Features
USB
USB 1.0 and USB 1.1 compatible; backwards compatibility for USB 2.0 and USB 3.0; USB-IF certified; Plug and Play
LEDs
Tri-state LED displays device status and COM port activity
Operating Systems
Windows Server® 2016, Windows 10®, Windows 8®, Windows 7®, Windows Vista®, Windows Server 2012, Windows Server 2008 R2, Windows XP®, Windows XP Embedded, Windows CE® 5, Windows CE 6 (x86 only), Windows Server 2003 R2, Windows 2000®; Linux*, Sun Solaris® (SPARC)**
Cables
1-meter USB cable
1-meter USB cable
1-meter USB cable
Captive 2-meter cable for secure connection in rugged environments (mobile computing)
Other (General)
Automatic port reacquisition; COM port assignments maintained across reboots; Full hardware and software flow control; No additional IRQ or memory address requirements; Low power consumption; Rack mountable; Hot-swappable
Other (Model-Specific)
N/A
2.0 kV DC galvanic isolation on all ports
N/A
N/A
Power Requirements
Power Supply
External power supply not required for models without USB ports (USB powered); 
Models with USB ports (Edgeport 416) ship with power supply: 100/240VAC 60/50 Hz at 5VDC @ 3 Amps max
USB Powered
Environmental
Operating Temperature
0° C to 55° C (32° F to 131° F)
0° C to 55° C (32° F to 131° F)
0° C to 55° C (32° F to 131° F)
0° C to 55° C (32° F to 131° F)
Relative Humidity
0% to 95% (non-condensing)
0% to 95% (non-condensing)
0% to 95% (non-condensing)
0% to 95% (non-condensing)
Approvals
Safety
EN60950, UL 1950, CSA 2.2 No. 950, IEC 950
EN60950, UL 1950, CSA 2.2 No. 950, IEC 950
EN60950, UL 1950, CSA 2.2 No. 950, IEC 950
EN60950, UL 1950, CSA 2.2 No. 950, IEC 950
Emissions/Immunity
CE, FCC Part 15, Class B, EN55022, EN55024
CE, FCC Part 15, Class B, EN55022, EN55024
CE, FCC Part 15, Class B, EN55022, EN55024
CE, FCC Part 15, Class B, EN55022, EN55024
---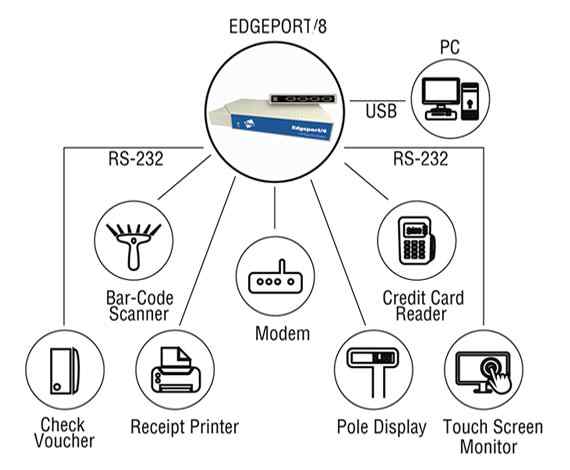 Edgeport USB-to-serial converters offer an easy Plug and Play solution for COM port expansion. An external box alternative to PCI cards, Edgeport connects serial devices to a PC or server's USB port, eliminating the need to open the chassis, reconfigure and reboot. Simply plug in the Edgeport and in minutes gain up to 16 serial ports to connect bar-code scanners, printers, or any serial peripheral device.
Edgeport USB-to-serial converters offer instant I/O expansion for peripheral device connectivity. An out-of-the-box (external) alternative to PCI cards, Edgeport makes it easy to add serial, USB or parallel ports to a PC, server or thin client in minutes.
Designed for mission-critical enterprise applications, Edgeport is available in multiple configurations for maximum flexibility and scalability. Choose from compact form factors for space-prohibitive applications; single port "bump-in-the-cable" solutions for notebook expansion; software-selectable RS-232/422/485 models to connect any type of serial device to one box; models with galvanic isolated ports for extended electrical safety; and DB-9 or DB-25 connectors to meet cabling requirements.