Hubport
Switched USB Expansion Hubs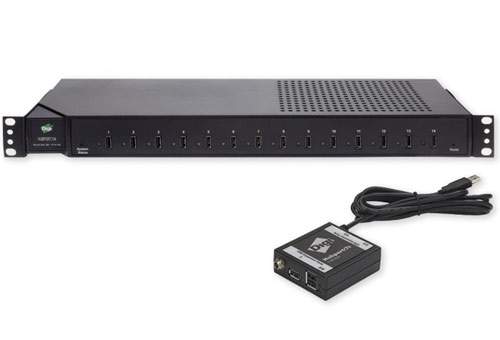 Industrial USB 2.0 hubs
Switched USB for maximum performance on all ports
4 or 7 ports in a compact plastic or metal chassis
DC powered models can be used with 12V or 24V batteries
Locking power connector
Product Specification
USB Features
Ports
4, 7 or 14 USB Type A ports (USB 2.0, 1.1 and 1.0 compatible)
Data Rate
480 Mbps; Multi-TT switched USB architecture guarantees a full 12 Mbps simultaneously on all downstream ports, even if a high-speed 480 Mbps transfer is active
Cables
Includes 1-meter USB cable
General Features
Power
Individual port power management; 5.5-30VDC powered models for mobile applications; 500 mA downstream power available per port; Locking power connector; 120/230 VAC 50/60 Hz IEC 60320 inlet (Hubport/14 only)
Operating Systems
Linux®*, Windows 10®, Windows Server® 2012, Windows 8®, Windows® 7, Windows Vista®, Windows Server® 2008, Windows XP®, Windows® XP Embedded, Windows NT® 4.0**, Windows NT Embedded**, Windows CE, Windows Server® 2003, Windows 2000
*Third-party support only. ** Supported when connecting Digi products.
LEDs
System power, Port status
(4-port models: 5 LEDs; 7-port models: 8 LEDS; 14-port model: 15 LEDs)
Dimensions (L x W x H) & Weight
Hubport/4c, Hubport/ 4c DC, Hubport/7c, Hubport/7c DC:
2.61 in x 3.00 in x 1.00 in (6.63 cm x 7.62 cm x 2.54 cm); 6.20 oz (175.80 g)

Hubport/4cM, Hubport/4cM DC:
3.74 in x 3.00 in x 1.39 in (9.50 cm x 7.62 cm x 3.53 cm); 7.60 oz (215.50 g)

Hubport/14:
4.97 in x 17.00 in x 1.74 in (12.62 cm x 43.18 cm x 4.42 cm); 35.00 oz (1134 g)
Other
No additional IRQ or memory address requirements; Hot-swappable; Rack-mountable; Plug and Play; Metal enclosures and DC-powered models available
Power Requirements
Power Input (AC Models)
Ships with plug-mounted 120-230VAC 50-60 Hz at 5VDC @ 3Amps max
Power Input (DC Models)
Variable power DC products are 5.5V to 30V @ 15W
Environmental
Operating Temperature
Hubport/14, Hubport/4c, Hubport/7c: 0° C to 55° C (32° F to 131° F)
Hubport/4c DC , Hubport/7c DC, Hubport/4cM DC: -40° C to +70° C (-40° F to 158° F) (Industrial)
Relative Humidity
0% to 95% (non-condensing)
Approvals
Safety
EN60950, UL 1950, CSA 2.2 No. 950, IEC 950
Emissions/Immunity
CE, FCC Part 15, Class B, EN55022 Class B, EN55024
---

---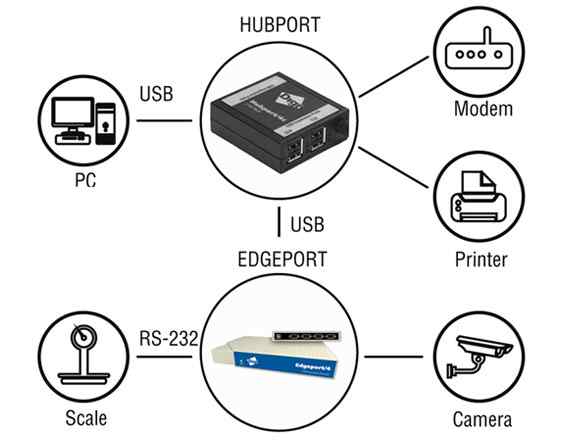 Hubport offers a simple solution for adding USB ports to a PC, server or thin client for instant peripheral device connectivity. This external, user installable solution plugs into a standard USB port to provide four or seven additional USB 2.0 ports in a compact chassis. The switched USB architecture guarantees maximum performance on all ports simultaneously.
Models include AC or DC powered hubs that accept power from standard AC wall plugs or a range of 5.5-30 VDC power sources, such as vehicle batteries. Plastic chassis and metal chassis models are available, and both are small enough to fit nearly anywhere.
Feature-rich design, extensive operating system support and reliable performance make Hubport ideal for mission-critical environments. Applications include connecting devices to a hub powered by car or truck battery for mobile applications; adding Plug and Play USB compatibility to an older PC or laptop; and connecting USB peripheral devices at an office workstation.