AD-MIC-770 V3
Compact Fanless System with 12th Gen Intel® Core™ i CPU Socket (LGA 1700)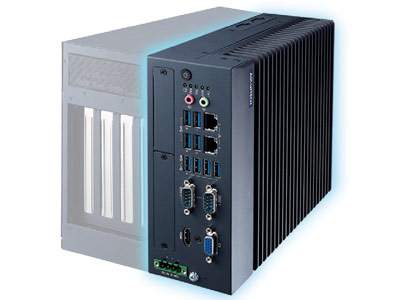 Intel® 12th Gen Core™ i CPU socket-type (LGA1700) with Intel® R680E/ H610E chipset
Wide operating temperature (-20 ~ 60 °C); VGA and HDMI output;
2 x GigaLAN, 2 x USB 3.2 (Gen2) and 6 x USB 3.2 (Gen1); 2 x RS-232/422/485 and 4 x RS232 serial ports (Optional)
1 x 2.5" HDD/SSD, 1 x mSACATA, and 1 x NVMe M.2; 9 ~ 36 VDC input power range
IP40 dust proof for deployment in harsh environment
Supports FlexIO and iDoor technology, flexible configure additional HDMI, DP, DVI, COM port, DIO, Remote switch IO
Supports  i-Modules; Supports  SUSIAPI and embedded software APIs
Supports Intel® vPro™/AMT and TPM technologies
Supports   iBMC 1.2 remote out-of-band power management solution on WISE-DeviceOn
Product Specification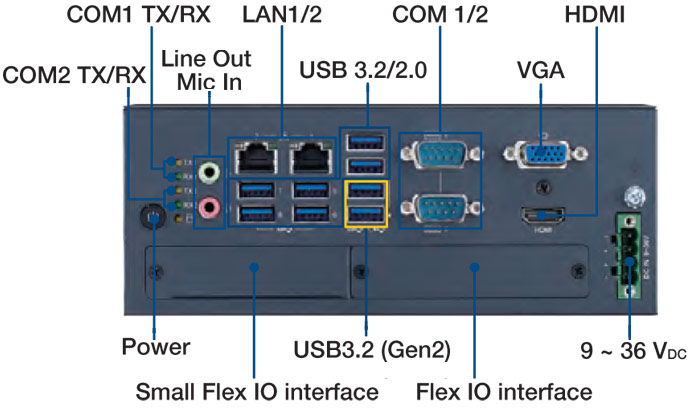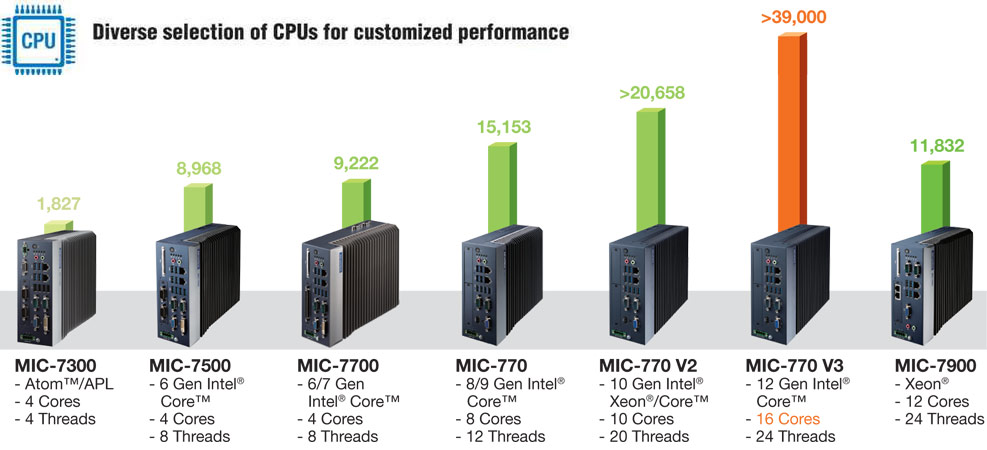 To support various IoT applications, the MIC-7 series can be equipped with various Intel® processors, including those from the Atom®, Core™, Pentium®, Celeron®, and Xeon® families. The wide selection of compatible processors allows customers to flexibly configure custom solutions based on specific application requirements. 
 
---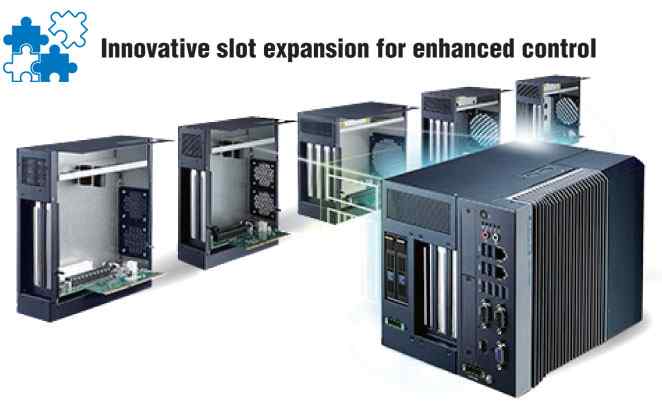 The MIC i-Module family supports PCIe/PCI I/F add-on cards, such as frame grabber, GPU, and motion control cards. In addition to the power sources from the PCIe/PCI slot, i-Modules reserve an additional 12 VDC of power from the onboard connector for cards that require more power. To better manage the heat generated by these add-on cards, optional system fans with smart functions are supported for enhanced thermal management. Furthermore, i-Modules provide additional HDD/SDD bays for increased storage capacity and also support removable storage bays.
---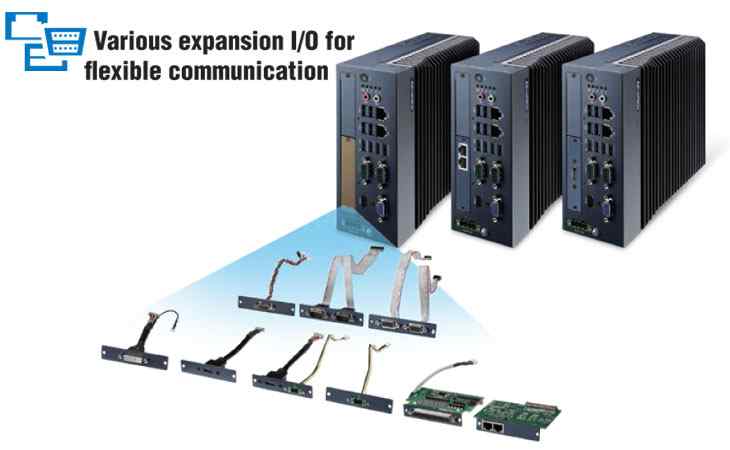 The MIC-7 series PCs are equipped with multiple I/O, but occasionally you need more! Located in the front panel for convenient cabling, the system's flexible I/O interfaces can support various displays, expansion I/O, and intelligent alarm functions to enable diverse machine automation applications. Moreover, with the inclusion of a mini PCIe I/F onboard,   iDoor industrial fieldbus, smart I/O, and communication modules can be integrated for enhanced functionality.