E-3203L
32" 1920 x 1080 Interactive Touchscreen Display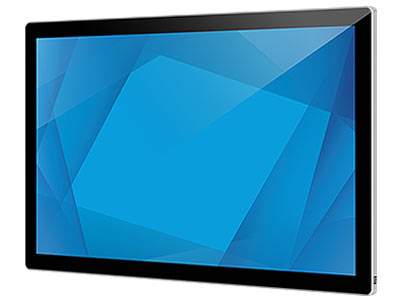 PCAP (TouchPro® Projected Capacitive) - 40 Touch with Palm Rejection and Touch Thru capability
Compliant with UL-60950 & IK-07 impact testing
Ready for use 24/7 in high traffic environments
Product Specification
E-3202L 
32" Interactive Touchscreen Display
E-3202L 32-inch touchscreen display provides a brilliant canvas for adding interactivity to any environment.
Enabling up to 40 touches with fast and extremely sensitive response time and anti- friction glass to minimize heat as fingertips drag across the screen, Elo's 3203L with industry leading TouchPro® PCAP technology is designed with the user in mind. And with touch thru capability, the interactive display can be mounted behind a mirror, in a counter or in a fully encased kiosk for added durability or aesthetics.
Unified Style Across Sizes
From 32- to 65-inches, choose the digital signage display size that fits each space perfectly.

Part Number(s)
TouchPro PCAP (clear with anti-friction) - E720061
Enclosure Color
Black
Touch Technology & Capacity
PCAP (TouchPro® Projected Capacitive) - 40 Touch with Palm Rejection and Touch Thru capability
Touch Thru
Supports up to 6mm glass/3mm plastic with up to 2 touches. Supports gloves up to 1.4mm
Touch Interfaces
USB-C
Diagonal Size
31.5'' diagonal, Active matrix TFT LCD (LED)
Active Area (mm)
27.5" x 15.47" / 698.4mm x 392.9mm
Aspect Ratio
16:9
Resolution
1920 x 1080 @ 60hz
Other Supported Resolutions
640 x 480 @ 60Hz 
800 x 600 @ 56/60Hz 
1024 x 768 @ 60Hz 
1280 x 720 @ 60Hz 
1280 x 960 @ 60Hz 
1280 x 1024 @ 60Hz 
1920 x 1080 @ 50/60Hz
Viewing Angle
Horizontal: ±89° or 178° total / Vertical: ±89° or 178° total
Number of Colors
8-bit (16.7 million)
Brightness (typical)
LCD Panel: 500 nits 
PCAP: 430 nits
Response Time-total (typical)
8 msec
Contrast Ratio
3000:1
I/O Ports
HDMI 1.4 x2 
USB-C (for touch and video) 
RJ45 (for optional OSD remote) 
DisplayPort 1.2 
3.5mm TRS jack (for RS232) 
3.5mm Audio Headphones out 
Elo Edge Connect Micro USB 2.0 x4
Control Buttons
Power 
Video Source Selection 
On Screen Display
Video
2x HDCP-capable HDMI on Type A connector 
DisplayPort 1.2 connector 
USB-C connector 

Input Video Horizontal Sync frequency range: FHD: 30 – 69 KHz 
Input Video Vertical Sync (frame rate) frequency range: 24 - 64 Hz
Headphone Output Connector
3.5 mm TRS jack
Speakers
2 x 5 W stereo speakers
Power
Input connector (power): IEC 60320-C13 
Input signal specifications (power): 100-240VAC 50/60Hz
Maximum Operating Time
24 hours/day
Power Consumption (Typical)
Monitor + AC/DC adapter: 
ON: 44 W 
SLEEP: 1.43 W 
OFF: 0.29 W 

Monitor with ECMG4 + AC/DC adapter: 
ON: 81 W 
SLEEP: 3.5 W
Dimensions
30.11" x 18.07" x 2.25" / 764.7 mm x 459.1 mm x 57.2 mm
Operating Temperature
Portrait/Landscape/Tilt (≤15°) Mode: 0°C to 40°C 
Table top Mode: 0° C to 35° C
Storage Temperature
-20°C to 60°C
Humidity
Operating: 20% to 80% 
Storage: 10% to 95% (38.7°C max wet bulb temperature)
Mounting Options
VESA 400 x 400mm
Sealability
Touchscreen sealed to bezel 
Touchscreen sealed to LCD
MTBF
50,000 hours demonstrated
Regulatory approvals and declarations
UL 62368-1 
FCC (US) 
cUL, IC (Canada) 
CB (International safety) (IEC/EN60950-1+IEC/EN62368-1) 
CE (Europe) 
VCCI (Japan) 
RCM (Australia) 
CCC, China RoHS (China) (for TouchPro version only) 
EAC (Russia) 
NOM (Mexico) 
IK07 and UL60950 for ball drop test
Energy Star
8.0
Other Features
Ambient Light Sensor - changes panel color to match ambient light, Auto Wake
32" to 65" Interactive Displays

Touch Technology
TouchPro® PCAP, IR
Touchscreen Display
32", 43", 50", 55", 65"
Computer Modules
Android™ / Microsoft® Windows®

4K UHD
53-series only
Connectivity-Rich
Accessorize with Elo Edge Connect
Slim Design
Less than 4" thick wall mount
Elo Edge Connect 

Built with versatility in mind, the Elo Edge Connect system offers a wide assortment of peripheral options. Whether for point-ofsale, endless aisle or self-order applications, you can seamlessly attach any combination of up to four peripherals to the edge of the touchscreen creating a bespoke solution. And, you can add or move them later as your needs change!