AD-AIMB-592
AMD EPYC™ 7003 MicroATX with 1 VGA, 1 COM, 2 10GbE LANs, 2 2.5GbE LANs, 5 USB 3.2, 8 SATA III, 1 M.2(M key)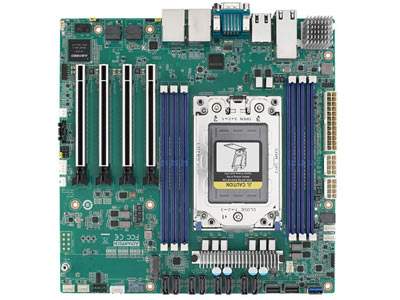 Supports AMD EPYC 7003 processor
Supports 128GB DDR4 3200MHz with 6 RDIMMs
Supports 4 PCIe Gen 4 x16 slots
Supports high speed 2x 10Gbe LANs, 2x 2.5GbE LANs
Supports 2 x PCIe x4 slimline SAS 4i
Supports Ubuntu 20.04 LTS; SUSI API and WISE-DeviceOn
Product Specification

---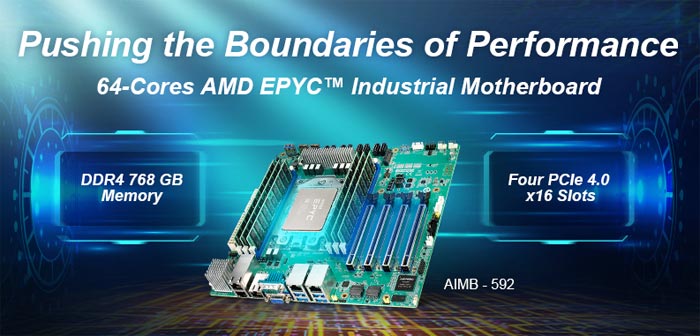 The high-performance, Micro-ATX form factor AD-AIMB-592 motherboard leverages AMD EPYC™ 7003 Series Processors and 4 x steel PCIe 4.0 x16 slots to deliver excellent computing power and support GPU extension.
Indeed, AD-AIMB-592 supports up to 64 CPU cores and onboard 768GB memory (via 6 x DDR4 RDIMM slots) to deliver best-in-class performance. It features dual 10Gbe LAN, dual 2.5GbE LAN, and dual slimline functions (dual PCIe 4.0 x4) to augment bandwidth networking and empower big data cloud services while maximizing transmission efficiency. It also provides intelligent remote management services via M.2 M-Key and IPMI 2.0.
This combination of features and attributes makes AD-AIMB-592 an ideal solution for data-intensive applications at the edge.
Model
AIMB-592SF-0AA1
AIMB-592SL-0AA1
Form Factor
Form Factor
Micro ATX
Micro ATX
Processor
CPU TDP
Up to 225W
Up to 225W
Core Number
Up to 64C
Up to 64C
Frequency
3.675 ~ 3.7GHz
3.675 ~ 3.7GHz
L3 Cache
Up to 256MB
Up to 256MB
BIOS
AMI EFI 256 Mbit
AMI EFI 256 Mbit
Memory
Max. Capacity
128GB
128GB
Technology
Six Channel DDR4 3200MHz RDIMM
Six Channel DDR4 3200MHz RDIMM
ECC Support
Yes
Yes
Socket
6 x 288-pin DIMM
6 x 288-pin DIMM
Expansion
PCI Express x 16
4
4
Ethernet
Controller
2 x INTEL LAN I226LM, 2 x INTEL LAN X550
2 x INTEL LAN I226LM, 2 x INTEL LAN X550
Speed
Up to 10GbE
Up to 10GbE
Connector
RJ45 x 4
RJ45 x 4
Watchdog Timer
WatchDog Timer
Yes
Yes
Storage
SATA
8 x SATAIII (Max. Data Transfer Rate 600 MB/s)
8 x SATAIII (Max. Data Transfer Rate 600 MB/s)
I/O
GPIO
8-bit GPIO
8-bit GPIO
USB 3.2
5
5
USB2.0
3
3
COM Port
1 (1 x RS-232)
1 (1 x RS-232)
TPM
TPM 2.0
TPM 2.0
Power
Power Type
ATX
ATX
Connector
ATX24P
ATX24P
Environment
Operational Temperature
0 ~ 60° C (32 ~ 140° F)
0 ~ 60° C (32 ~ 140° F)
Non-Operational Temperature
-40 ~ 85° C and 60° C @ 95% RH Non-Condensing
-40 ~ 85° C and 60° C @ 95% RH Non-Condensing
Vibration Resistance
3.5 Grm (Non-Operation Mode)
3.5 Grm (Non-Operation Mode)
Physical
Dimension (mm)
244 x 244 mm
244 x 244 mm
Weight
1.9 kg (4.18 lbs)
1.9 kg (4.18 lbs)
Operating System
Microsoft Windows
Yes
Yes
Linux
Yes
Yes
SUSIAccess
Yes
Yes
Ubuntu
V
V